The latest round of FIFA arrests were accompanied by a superseding indictment (
here in PDF
), in effect an update to the charges that the US Department of Justice is levying against various FIFA officials and their partners.
In the superseding indictment there is the tantalizing possibility that both Jerome Valcke (former FIFA general secretary) and Sepp Blatter (suspended FIFA president) are included as "unnamed co-conspirators" numbers #17 and #14 respectively.
Here is the evidence.
Unnamed co-conspirator #14 is described as "At various times relevant to the Indictment, Co-Conspirator #14 was a high-ranking official of FIFA." And #17 in the same terms, "At various times relevant to the Indictment, Co-Conspirator #17 was a high-ranking FIFA official."
This doesn't give much to go on, but the document provides a few more details.
On #17 (p. 93):
"on January 2, 2008, January 31, 2008 and March 7, 2008, a high-ranking FIFA official, Co-Conspirator #17, caused payments of $616,000, $1,600,000, and $7,784,000 - totaling $10 million - to be wired from a FIFA account in Switzerland to a Bank of America correspondent account in New York, New York, for credit to accounts held in the names of CFU and CONCACAF, but controlled by the defendant JACK WARNER, at Republic Bank in Trinidad and Tobago."
This description is
consistent with media reports describing the role of Jerome Valcke
in facilitating the alleged $10 million bribe involving South African officials.
On #14 (pp. 91-92):
"Charles Blazer learned from the defendant JACK WARNER that high-ranking officials of FIFA, including Co-Conspirator #14, the South African bid committee, including Co-Conspirator #15, and the South African government were prepared to arrange for the government of South Africa to pay $10 million to CFU to "support the African diaspora."
This description is consistent with
a report in the Sunday Times (of South Africa)
that Sepp Blatter had corresponded with then-South African president Thabo Mbeki about the $10 million payment. The key tell in the superseding indictment is the phrase "the South African government" which is highly suggestive of the relationship revealed by the Sunday Times (SA). Here is one of the emails referred to in that article: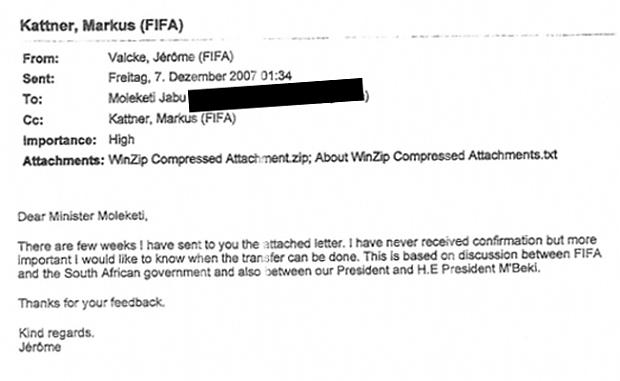 So, is #17 Valcke? And, is #14 Blatter?
It is not 100% certain, but it seems highly likely. I'd bet a beer on it. If this turns out to be correct, then we might expect formal DOJ charges against Blatter and Valcke before this investigation is over. Stay tuned.