Today Maria Sharapova announced (above) that she failed a drug test taken after her loss to Serena Williams in the Australian Open earlier this year. She has been provisionally suspended by the WTA. This post summarizes some information I'm come across today and some of my initial thoughts.
Sharapova tested positive for a drug called Meldonium (also called Mildronate) which is manufactured in Latvia for the treatment of heart conditions by increasing blood flow. The drug is
available in Russia, Latvia, Georgia and Lithuania
but not the USA. It does appear to be
readily available online
. The
European Patent Office touts the drug as a great success story
-- it is responsible for about 0.7% of all Latvian exports. Its inventor was a finalist for the European inventor of the year award in 2015.
According to
a recent study in the journal Drug Testing and Analysis
(Görgens et al. 2015), "Mildronate demonstrates an increase in endurance performance of athletes, improved rehabilitation after exercise, protection against stress, and enhanced activation of central nervous system (CNS) functions." The drug was added to the WADA monitoring program in 2015 and then added to the WADA list of banned substances as of January 1, 2016.
That same study found the presence of Meldonium in 182 of 8,230 (2.2%) urine samples taken from elite athletes. The latest doping documentary from ARD (interestingly enough) included reference to a study of Russian athletes that indicated that 17% of athletes had tested positive for the drug (HT
@michelesammet
).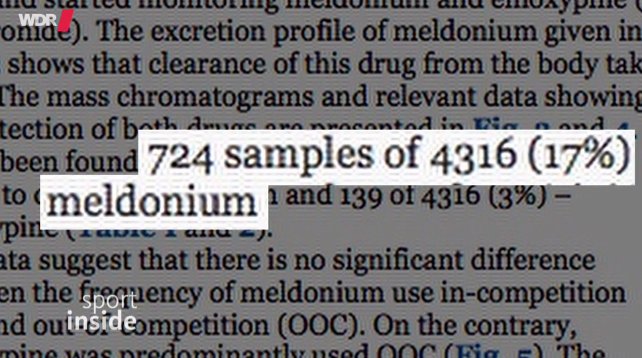 "[S]he never denies herself a sweet if she wants it. "The moment someone says I can't have something, forget it. I want it even more," she says. "If I crave a cookie, I eat it."
I can find no evidence of Sharapova speaking to her alleged heart problems before today.
Here is a good summary of the penalties that the ITF imposes for doping violations:
Best understanding of ITF doping bans: Start at 4 years. Down to 2 if not intentional. 1 if "no significant fault." Zero if "no fault."

— Tom Perrotta (@TomPerrotta) March 7, 2016
Sharapova is making the case that the drug has been taken for medical reasons and that she simply did not notice that it had been added to the prohibited list, thus making the case for "no fault."
Her lawyer argued her case to the NYT
: "we believe that either no, or a very limited, sanction is required based upon all the facts surrounding why she was taking it, for how long she's been taking it and the medical issues she was taking it for."
It strains credulity that Sharapova, who has been in the US since age 7, would be taking a drug that is not approved for use in the United States to treat a medical condition that she has supposedly had since age 18. Until Janurary 1, 2016 taking Meldonium was not against the rules, after, it was.
Nike has suspended Sharapova
, who is in the last 2 years of a reported $70 million, 8-year deal. A suspension of several years or more could effectively end her career and badly damage her future endorsements, which in 2015 were a reported $23 million.
No matter what sanction Sharapova is given, we should expect the case to go to the Court of Arbitration for Sport. To light a sanction and WADA will likely appeal, and too strong a sentence, then Sharapova may do the same. The other athletes caught taking Meldonium are no doubt watching closely, as will be the others sure to be caught in the coming weeks and months.
It is the highest profile doping case since Lance Armstrong and one with considerable significance beyond Sharapova and tennis.