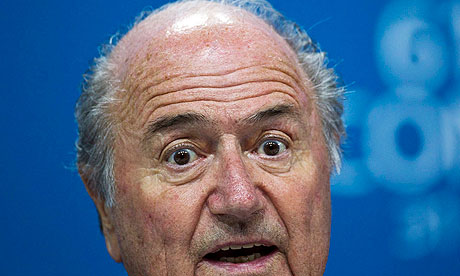 Sepp Blatter, FIFA president, has said some interesting things lately.
On England's call for reform in FIFA
:
"This animosity comes from England," said Blatter. "The timing of the accusations is interesting. It was just around the time when they failed to win hosting rights to the 2018 World Cup. Three weeks before the presidential election these accusations emerged.

"Let me tell you the truth: All this has been an act of revenge for [England's Sir Stanley Rous] having lost the Fifa presidency in 1974 to [Brazil's] João Havelange [pictuerd to the right with Blatter]. Still, they cannot accept that they no longer control Fifa. Since they cannot regain the presidency, they decided they would try to destroy it."
Blatter, who is Swiss, adds
another interesting explanation for the increasing pressure on FIFA
:
"Europe will do everything it can to win the presidency,'' he added. ''I would say, to regain, because they do not consider me European. To prevent this war, we are going to create a formula for this election. We will have renewal, not revolution."
Perhaps the Europeans think that Blatter is Egyptian
?
The European Club Association chairman, Karl-Heinz Rummenigge, has called on the Fifa president, Sepp Blatter, to introduce reforms in football's world governing body or risk the fate of the toppled Egyptian President Hosni Mubarak.

Rummenigge told Friday's edition of the Swiss business magazine Bilanz that Blatter would be smart to introduce reforms "before his successor does it or before a revolution comes from outside".

The Bayern Munich chairman added: "Mubarak never imagined a year ago that he would be hounded from office."
Blatter's definition of corruption is interesting as well
:
"Fifa is not corrupt. I cannot start with the word corrupt. Someone is only corrupt when he is been found guilty"
Blatter has announced that FIFA's internal reforms
in response to recent calls for change
will be released on October 21, 2011. Call me a skeptic, but I doubt that they will amount to much.