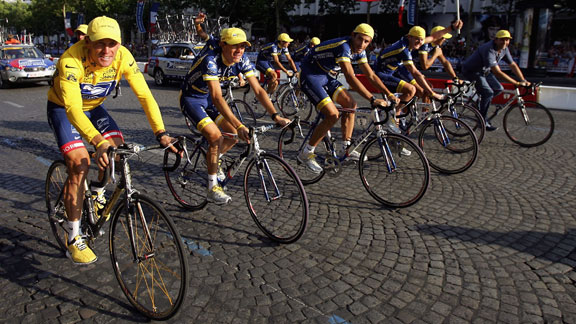 In the unsealed lawsuit filed by Floyd Landis againstlance Armstrong, joined by the US Department of Justice, there is this allegation (
here in PDF
):
In approximately April 2004, after the Paris-Roubaix race, Mr. Landis attended dinner at a restaurant in France, with defendant Bart Knaggs, Geert Dueffler, and others. During the meal, Mr. Landis expressed concern about a shortage of equipment that was resulting from team management selling the bikes that were being provided by sponsors for the riders. In the heated conversation that ensued, Mr. Landis commented to the effect that, while Mr. Armstrong was flying around in his own jet, the other riders should not be facing problems just obtaining the proper bike.

In response to Mr. Landis' complaint, Mr. Duffeleer explained that the team management needed to sell the bikes to finance the doping program, as they needed cash for the doping program, and the team could not just list doping as a cost item on standard expense reports.
Selling sponsored equipment to buy drugs -- and that is not the worst you'll find in the document.