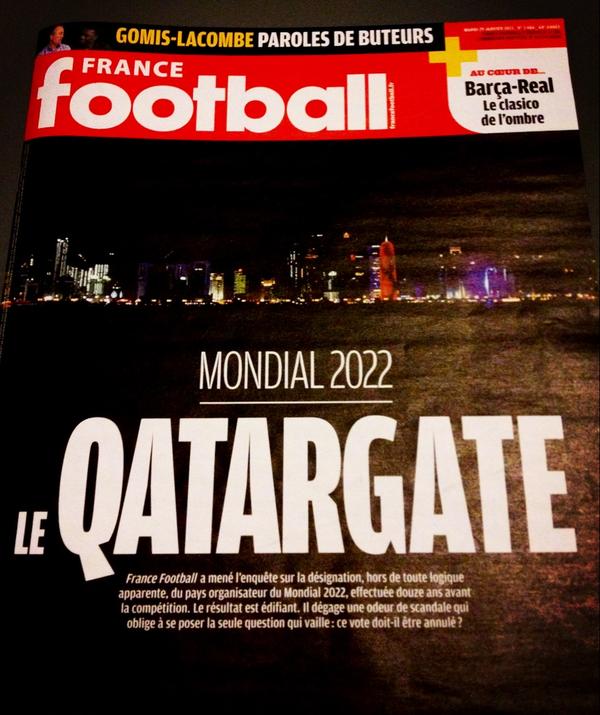 France Football has a 16 page expose
on the FIFA decision to award the 2022 World Cup to Qatar.
Paul Kennedy provides a useful summary
of the key allegations:
-- The votes of African confederation president

Issa Hayatou

(Cameroon) and

Jacques Anouma

(Ivory Coast) were bought for $1.5 million apiece, then the whistle-blower, former Qatari bid employee

Phaedra Al Majid

, mysteriously retracted, saying she made everything up.

-- Qatar "sponsored" the 2010 African confederation congress to the tune of $1.25 million to gain exclusive access to the four Africans on the FIFA executive committee.

-- One of the four, Nigerian

Amos Adamu

, was suspended from the executive committee before the vote following revelations in a Sunday Times sting investigations. The Qataris have subsequently been accused of seeking to "sponsor" a pre-World Cup 2010 banquet to the tune of $1 million. Its organizer: Adamu's son.

-- Then-French President

Nicolas Sarkozy

asked UEFA President

Michel Platini

, who was expected to support the USA, to vote for Qatar for geopolitical reasons. Sarkozy and Platini met with the Qatari crown prince

Sheikh Tamim bin Hamad bin Khalifa Al-Thani

in 2010 to discuss Qatari investment in French soccer. (It has since bought Paris St. Germain and launched beIN Sport in France.)

-- A Qatari representative offered to spend millions on pumping up ailing Argentine soccer to gain the vote of Argentine

Julio Grondona

.

-- Middle Eastern holding companies bankrolled deals struck by since-disgraced Brazilian soccer boss

Ricardo Teixeira

.

-- A sweetheart deal was struck with the Spanish federation to organize a friendly game in Qatar and "silence"

Angel Maria Villar

, who supposedly had a vote-swapping pact with Qatar to back Spain's 2018 World Cup bid with Portugal and was furious that in fact Russia won the 2018 contest easily.

-- The Qatari sports agency Aspire spent millions on promoting youth sports in countries with members on FIFA's executive committee.
For his part
Michel Platini rejects the allegations
and says that he voted his conscience:
Platini, for all the good work he has done at the helm of European football, has come in for criticism over his decision to cast his vote towards the tiny Gulf state amid persistent reports he had been influenced by Sarkozy because of potential commercial spin-offs.

"I voted for a region that never received the World Cup, that was my philosophy, not because Sarkozy had lunch with me," Platini insisted.

"I have enough personality to decide what is good for football, not for the President of France or the Prime Minister of Great Britain, who also wanted my vote."
At his blog, James Corbett offers some valuable perspective
:
It's a well articulated piece and important that all these aspects are put into a single narrative, but there's no real smoking gun. I think the journalist James M. Dorsey is most on the money when he is quoted: 'The Qataris were very malignant and explored all the shadows and were near to the edge of the cliff, but, in my opinion, didn't cross the yellow line.'

For me the only new revelation was that a couple of Swiss law firms are looking at the legalities of a winter switch, and that Karl Heinz Rummenigge, president of the European Clubs Association, says on the record for the first time that he is not averse to making European club football a summer game. While the Qatar Supreme Committee get a right of reply, it wasn't clear from my reading whether the reporter had actually visited Qatar.

There is also a lack of context regarding the bid race itself. The rules of engagement – such as they were – set out by FIFA were there to be exploited. They were wholly inadequate and this was compounded by the ludicrous decision to simultaneously run the 2018 and 2022 races. This led to all sorts of vote trading, secret (and illegal) pacts and other horseplay.

The lack of context is slightly troubling, because it adds to the Qatar-bad, everyone else-virtuous narrative which is overly simplistic. The reality is far more nuanced and complex than those assumptions would suggest. I think it's fair to say that few people came out of the bid race with much credit and while it may have been more palatable for England, the US or Australia to have won hosting rights, they lost out to healthier resourced opponents who played to the margins better than they did.



Every bid that was in serious contention sought to exploit loopholes in the bid guidelines and played to the line. Yes, Qatar sponsored the CAF Congress, but England 2018 supported the Caribbean Football Union's annual beanfest. It's true that Qatar had the influential (and subsequently disgraced) Mohamed Bin Hammam, but the United States had those paradigms of virtue Jack Warner and Chuck Blazer. Qatar spent millions on PR consultants, but other bids spent a lot of money and charmed and bullied and smeared journalists (the vitriolic campaign against Andrew Jennings and his Panorama programme on FIFA was one of the most disgraceful things I've witnessed in journalism). And you think that Australia, which pumped millions of its taxpayers money into the pockets of people like Fedor Radmann played a straight bat? And then there's the 22 men who made the decision, half of whom have had significant questions about there integrity posed since December 2010. I could go on (and on).
What is most troubling at this point is not the allegations, as Corbett notes, Germany 2006 suffered from similar allegations and behaviors. Rather, the most troubling aspect of the situation is that FIFA has shown little interest or ability to clean up its governance.
You may have seen
recent news reports
indicating that FIFA is now using its new ethics committee to investigate the awarding of the 2022 World Cup.
From James Dorsey we learn
that is not quite true:
In an email in response to this posting, FIFA drew in an email a distinction between a review of allegations and an investigation. It said the review was intended to determine whether there were grounds for an investigation.
While the meaning of FIFA's fine distinction between a "review" and an "investigation" is a mystery, even a casual observer can find enough in the public record to indicate that a thorough investigation is needed.
Dorsey is spot on when he concludes:
The outcome of the review will be widely seen as a test of FIFA's willingness to thoroughly investigate allegations and truly tackle fundamental governance issues against a widely held perception that the soccer body has yet to demonstrate real sincerity. Few believe that FIFA, which will also look at Russia's winning of the right to host the 2018 tournament, would want to risk a either country being deprived of the honor.



FIFA's effort would have to further address the worst albeit politically loaded corruption scandal in the history of world soccer in which the bids are inextricably meshed as part of its undertaking to convince its critics.
For more on why it is that FIFA is so hard to hold accountable and reform, you can see my recent paper in
Sport Management Review
(
PDF
).